Highlights from our Ladner, Italian, Danish and other Canadian Guests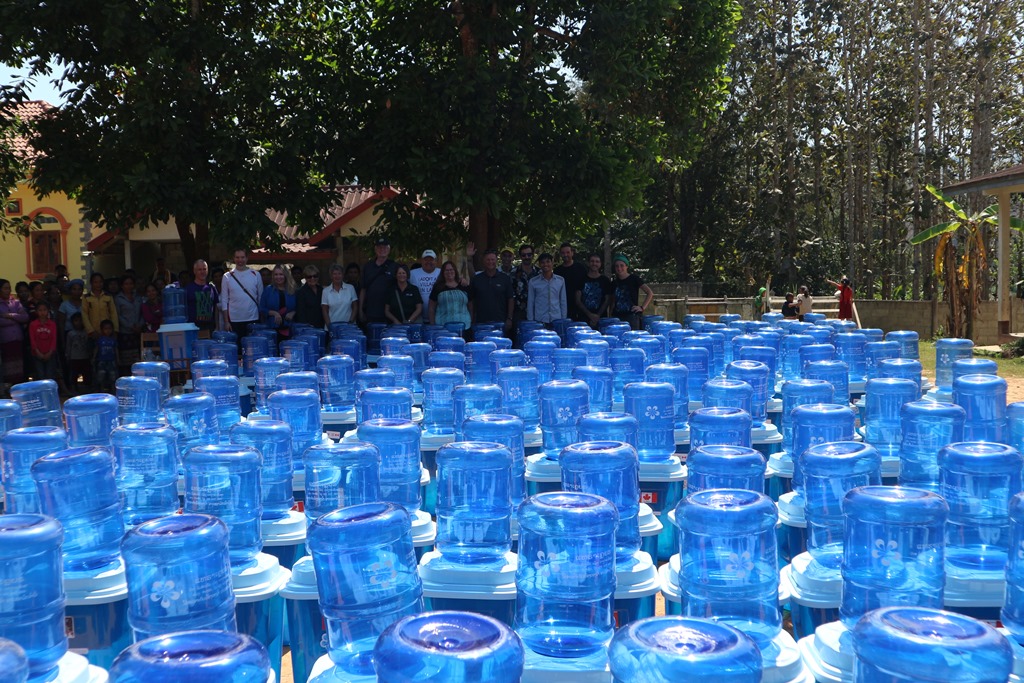 We have been overwhelmed by the number of urgent requests from various villages across Nambak District for permanent water supplies, significant repairs to existing ones (damage caused by the August monsoons), water filters (over 1200 in the last month), and school support for the most part.  We received 10 requests yesterday alone!
As we continue to review and summarize the requests, I am happy to report that we have made significant headway with several completed projects this season.  Here are some highlights from a diverse group of people who visited us in early February to assist with the distribution of water filters to four villages in four days.
After a Baci and celebration, we continued to Nong Khiaw for the night and then headed to Mokok, to distribute water filters and to do the official handover of Rotary Funded Water Project to the village.  In this village, we built a dam, about 5 1/2 km of pipe, a large water tank and ran water to Namduen secondary school and village of 78 families.  This was a special treat for our guests of honour.
It was a long, fulfilling, emotional day.  Next up…Houay Phoung.
It is not uncommon for some of the villagers to decline getting into the pictures.  They are afraid that they will lose their soul through the camera lens.  For each distribution, Siphan carefully explains to everyone that this is not the case.  Still, some remain skeptical.
It was the end of a long fruitfull trip for our guests and so we celebrated over dinner and shared our versions of what we had seen.
Finally, one of our annual visitors to Laos wrote a poem about her feelings and experiences in Laos, as she does each year.  This one really captured the true essence. Apologies for the formatting below;
"Mekong Mists and Dreams 2019
Caught again in the lure of Luang Prabang
The sun has risen and set once more,
On these travelers that dare to step thru Laos door.
Foreigners indeed from Denmark Italy and Canadian soil
Friends now, friends now forever loyal
We are but novices here in these ancients parts..
Laos smiled to itself knowing it would steal our hearts.
We have worked hard together, laughed and made the work play,
Bringing clean water and a desire for others to have a better day.
What Laos has given us can never be repaid.
The memories of ebony and crimson jackets of the Khmu
The smiles of the elders, the sparkling brown eyes of the child.
The towering mountains, the brown Mekong rushing wild.
Imagine having lived your entire life and never having seen these jungle mists rise
As you waken to the temple drums …oh so very wise.
We must turn again to the West..our homes and families are calling,
But we have family here now as well, but this family is as a Dream
And we will live in this dream forever.
Diana Cabott 2019″