Freezing Students and another Family Filter Distribution
As mentioned in our previous post, it didn't quite go as planned but perseverance overruled and a total of 263 water filters were delivered, school supplies for over 120 students provided, along with the official start to our two main projects…a permanent water supply for the village of Houay Hid, and an additional toilet bank for the girls at Nambak Secondary and Boarding School.
We happened to be visiting a neighbor and while we were talking to the owner, one of his children walked in and it was discovered that he walked 6km home from school because his dad was late…really late! The next day we took him, his brother and another student to a local bicycle shop to pick out their own bicycle. I had got permission from the dad to buy one bicycle so he was pretty surprised when we came back with three.

Thanks to an amazing donor, no time was lost in going back to the the primary school in Phouthidpeung. These kids were freezing so we brought coats for every student.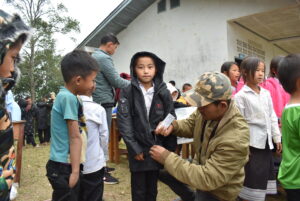 During our next field visit we had a special guest with us…a wonderful donor for many years. We started with another distribution of 115 water filters to the village of Houay Hiem. The road leading to the village was terrible – can't imagine that it would be navigable in the rainy season. Still, our guest cited that this was the highlight of his 6 week trip.

For locations of our villages, please click on the link and zoom in on the villages you wish to see…you can even see the rooftops. https://www.google.com/maps/d/viewer?mid=1RbgoWn6XeX09gV1UgYapHKdjs1PCILZ1&ouid=0&ll=20.313397439481367%2C102.2615382047569&z=9
The water project at Houay Hid is progressing quickly. The dam has been poured, over 5Km of pipe laid (loosely for now) and of yesterday, they had poured the walls of the water tank

The Nambak Secondary School Toilets are coming along nicely too.