Support a Student For The 2021-22 School Year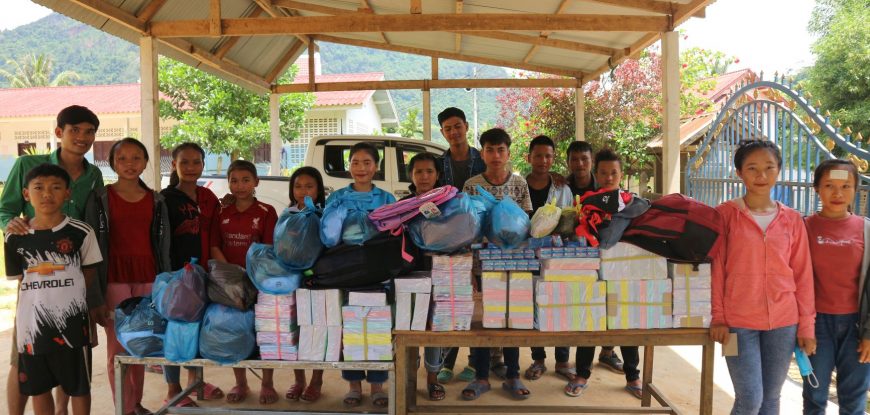 We have reached our target to cover our three remaining secondary school students. It is hard to believe that AAVIL has sponsored over a dozen students since early primary school. However, it is support for our college and university students that is still needed.
Each year we aim to support one university/college student. However it rarely works out that way.  As our students graduate from Secondary School, they want to continue their education of course.  Subject to available funding, we are currently offering full scholarship for six students, one of them working on their Masters Degree.  These students have to move to Luang Prabang or in the case of our start student, Vientiane (for his Masters Degree).  Our scholarship covers expensive dormitory fees, tuition, uniform and clothes, backpack, school supplies and a monthly allowance.  Throughout the year there are additional costs.  Every photocopy that is distributed in class, has to be purchased.  There are at least two school trips, often three throughout the 3 or 4 year course, with the last one including a 3 month training period in a rural village, all of which are sponsored.  In years 2 or 3 (depending on the course), a laptop is provided.  The average annual cost for a university/college student is $6,000 CAD, or $8,000 CAD for the Masters Program.  It takes quite a few donors to sponsor a student in this capacity. Our total target for the 22/23 school year is $21,700 Canadian.
This is not all we support.  Some students ask for extra money for english courses and we try to comply as funds allow.  From time-to-time was also distribute school supplies to primary schools…averaging about $5 per student x the number of students in the school.  The school sizes range from about 60 students to 150.  Here we hand out writing books, pencils, pencil sharpeners, pencil crayons, erasers, rulers, pens and a small can of fish.  This small can will be shared with the entire family. If available we will also provide toothbrushes and toothpaste.
Donors for Secondary School students will receive emailed pictures of the student they are supporting.  For the university students, a video is prepared and a link is emailed to our donors, as thanks.