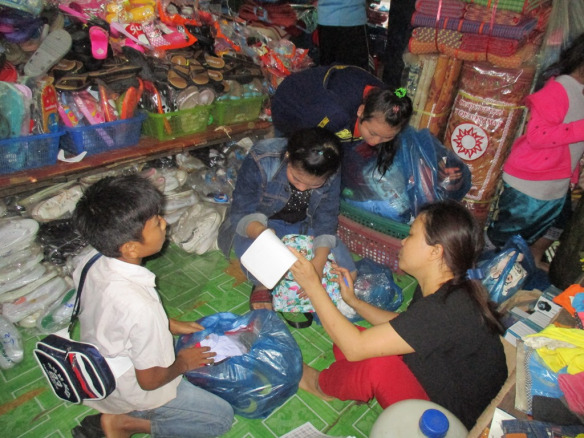 It has certainly been a hectic summer and fall so far.  There have been lots of fundraising activities for our Laos Projects and other local projects in Southern Ontario.  Fortunately it looks like we are on target with our financial goals for the upcoming season.  We hope to do two water projects. First is to provide a permanent water supply for a new secondary school in Pak Mong, about 2 hours north of Luang Prabang, involving a dam, several km of pipe, water tank and taps to the toilets and handwashing stations.  The second is in Mok Kok involving a permanent supply of water to the village and to the secondary school there.  With approximately 5km of pipe, another dam and water tank, the village will have their first permanent water supply ever.  This village will get water filters too, so we hope to keep more children in school and that there will be more productivity from the villages.  We expect that the result of more productivity will be prosperity and longer lives, as we have seen in other villages.  In addition to the two water projects, we hope to raise funds for distribution of 650 water filters.  Finally our students are back in school too but it came with some challenges.
Due to a terrible season of monsoon rains, there has been a lot of flooding and mudslides in the area we work.  Just getting out of the Luang Prabang region, has been a struggle to get around a partially collapsed bridge. Some of the land abutting the bridge washed away too.  The result?  A 12 hour wait for the hastily constructed temporary road down the bank of the river and transport of 4 car ferries to get across it. This happened during the time we needed to get the kids outfitted and back to school for September.  Everything was delayed and some of the students couldn't travel due to the high rivers or impossible roads.  Eventually our manager did get everyone back to school.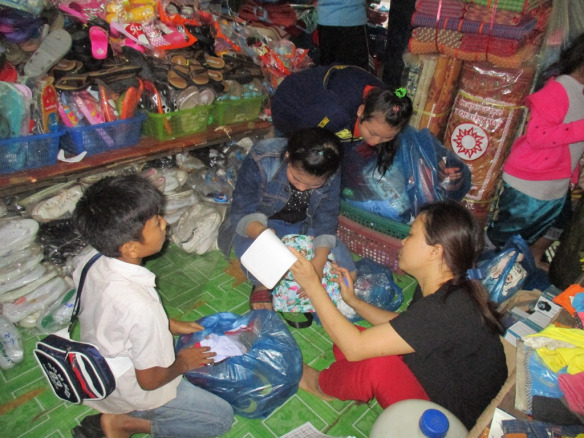 Here is just a glimpse of some of the issues caused by the heavy flooding and mudslides.  While at least 2 dozen NGO's and governments from Korea, Singapore, Vietnam, Thailand and Laos were all there to support a dam collapse in southeast Laos earlier, affecting 13 villages, only Bamboo Schools (a German based NGO) and us, Adopt A Village in Laos were able to assist a couple of the villages.  The Swiss Red Cross also came in to assist temporarily, thanks to a plea from Bamboo Schools.  We are told that Bamboo Schools will be moving out of Laos in December, after something like 19 years.  This is sad news in that we will be the only NGO in this area.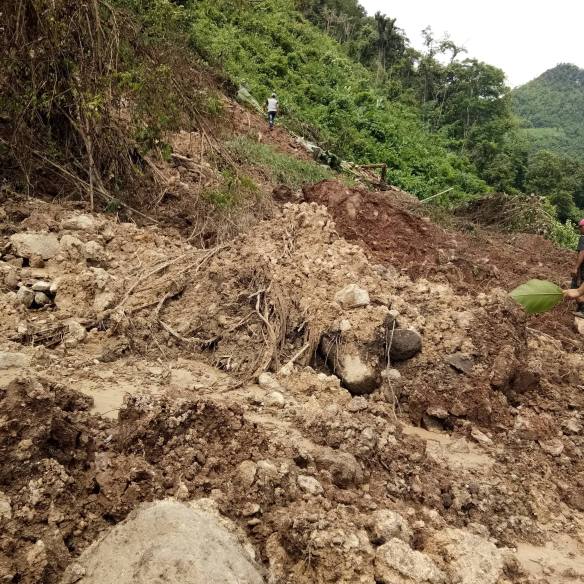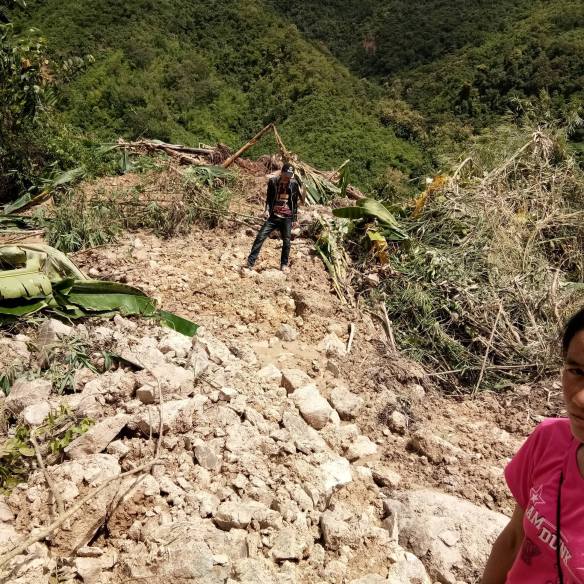 The villagers shown here are just a few of the families from the village that was evacuated after 4 homes were pushed into the Ou River.  The rest of the village was permanently evacuated after a large crack in the mountain behind them was discovered.  It is only a matter of time before the entire village disappears under the mud.  We understand that the village is beginning to rebuild in a farmers field.  While I haven't received full details yet, my understanding is that the government arranged to buy land off of the farmer.  I am not sure what the financial arrangements are but the government had said that they didn't have the money to buy the land.  That was about 3 weeks ago.
We arranged for delivery of water filters too, however that was not to be.  The ferry boats couldn't carry large trucks across the river so the filters ended up back at our house in Luang Prabang.  Instead, Bamboo Schools provided 50, however the lifespan on those are not expected to last more than a couple of years.
Siphan will be visiting another village that is in even worse shape.  The river has been too high so crossing has not been an option until just recently.  This village of 96 families lost 8 houses into the river plus their rice storage hut…meaning no food.  23 of the remaining huts were 70% damaged according to the government.  Unortunately there isn't a lot we will be able to do since our budget for small project is now exhausted.  We will try to provide food as we can however, until their rice crops are harvested in the November timeframe…for those that didn't lose their fields to the floods.
Siphan's fish farm wasn't spared either.  When he sent pictures, I couldn't recognize where he was talking about until I studied them in detail.  For those of you that I have taken to his farm, the pond in teh distance and side river are now one lake!  Needless to say that his fish are gone.
My heart goes out to all of these families.  I wish I could do more.
Still, we are so thankful that many people have stepped up to support us again this year, being our 10th!  With two more water projects, bringing our total to 14 villages with permanent water supplies, and hopefully another 650 families with water filters, meaning another 3250 people with clean water, we should be over 40 villages with water filters (23,000 people).  I should mention that Barbara Seagram and Patti Lee held their annual fundraiser for us and have raised 193 Water Filters!!!  We are ecstatic!  With our students, our last university student should graduate this year, and our first high school students should be graduating in 2020.
Now, on to more fundraising….we aren't there just yet!