Ban Phone Cultural Centre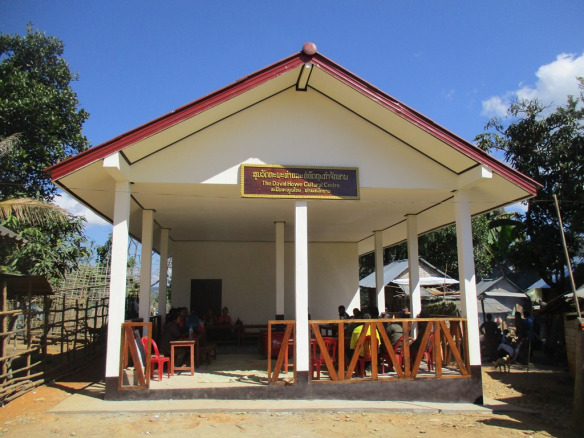 This year has been a strange one.  Rain, cold (for Laos standards) and for some reason, we haven't slowed down since I arrived at the beginning of December.  Fortunately everything is on track although our last project was delayed a little with the start date.
As we prepare for many more guests to arrive in two groups, I actually find my self pretty much caught up with the reporting, filter label sorting and preparation, and of course, computer work!
During this last month we were visited by a small contingent of a very generous Malay group that has been supporting our projects for three years now.  I had never met them because they always came at the beginning of the rainy season after I returned to Canada, but this season I had the privilege and honour of actually meeting them.  It is amazing how our cultures are so similar.
We distributed 38 of the 62 water filters their group had raised funds for, and officially opened the long awaited Cultural Centre.  They were the second largest donor for the project and villagers are, needless to say, ecstatic.  It has been a 3-year cycle for them in trying to find support.  The village elders and District planning department have also laid the path for the elders to be able to teach the younger generations from neighboring villages (and their own) how to weave approximately 40 different basket-type products, in addition to sharing their cutural stories of the past and keep their cultural Khmu identity – much has been lost over the years.  We also hope to develop this centre to present cultural activities such as song and dance,art, and perhaps teach the villagers to expand into silk weaving.  The planning and tourism departments are on board with us of course and even the tourism department in Luang Prabang is eager to assist by exchanging talent.  Finally the elders will also be able to assist in supporting their large families by selling their product to the general public and tourists.
I should mention that the majority of the funding was kindly provided by a member of the the Toronto Bridge Group, in loving memory of her husband and who wishes to remain anonymous.  We also received sizeable donations from the Ravaesky family in Caifornia, Christine Thammavongsa of Toronto, Kevin Hope in Loving Memory of his wife, Fay and quite a few others.
Our Vancouver Rotary contingent arrives in just one week!  Preparations are pretty much complete although we will reconfirm all of the accommodations and transportation for them, just to make sure nothing goes amiss.  They will be assisting us with the construction of at least one water tap and post, distribute 122 water filters, ALL of which were raised by them through various Rotary Clubs and Friends of Rotary there, and officially celebrate the opening of the water line and water tank for the needy village of Ban Xiengda.  It will be a busy few days!