Another Exciting Distribution of Water Filters with Amazing Friends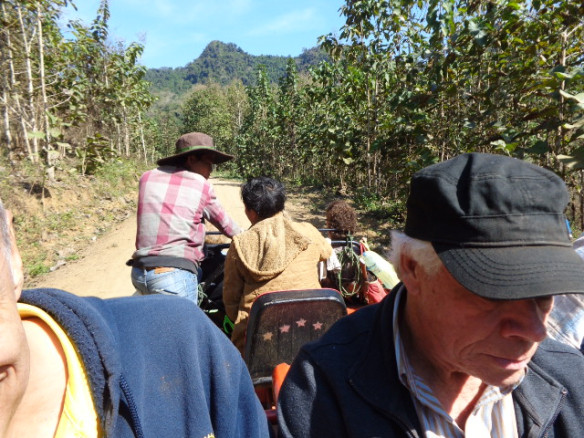 With the much anticipated arrival of friends from British Columbia, Canada, we sent Siphan up ahead to organize the delivery of 250 water filters to four villages.  Of course there are always complications.  By now we have come to expect the unexpected.  The delivery truck left on time, with plenty of time to get here but decided he wanted to spend two nights in Vientiane, rather than one night, despite explicit instructions and agreement.  This threw the entire process off.  Village chiefs had to be called who in turn had to call all of the people who had left the village to meet up with the truck; the delivery of replacement parts to Luang Prabang had to be cancelled and the final 14 water filters had to be delivered to Siphan's house in Phonsavanh.  The delay further resulted in taking an extra day to deliver everything.
Our guests arrived safe and sound and we began the next adventure.
Once we arrived at the drop off site of Pak Jeem, we loaded onto a most uncomfortable tractor and rode through streams, huge ruts and an all out bumpy ride for about an hour.  The ladies were on the front of the tractor, men on the back because that is where the engine exhaust headed.  We got there pretty late and were never so glad to get off.
After arriving at the village we were surprised to see that Khamdy, who we sponsored during his final years as a university student and as a teacher until he went on payroll) and his brother Somnuek.  Living in Pak Jeem, they too a motor bike a few hours ahead of us and had all of the water filters set up for us.  All we had to do was label them!
With 62 systems already set up, I went right into the teaching segment of the program and the audience was amazing and thrilled for a cure to their diarrhea…again, all of them rose there hands when I asked if they had experienced diarrhea recently.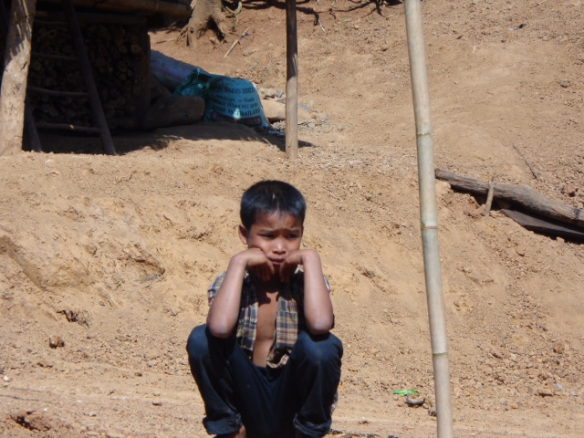 During the training, we used a very specially labelled filter in honour of an Italian friend who lost her brother on New Years in Italy.  Normally they would be taking pictures and video instead of me and my amateur efforts.
The villagers had a special baci ceremony waiting for us also.  This was a first for some of the guests and they felt quite humbled over it, as we did.
After a rush back to Nong Khiaw for the night, dinner and a sleep, we headed to Vieng Hin.  Fortunately we could drive right to the village up and down a dusty, winding road through the mountains.  Here we distributed another 137 systems.
The next morning we stopped off at Siphan's farm to give our new guests and idea of what farming was like here. Fortunately we were met with Siphan's mom and dad and his brother.  Tamara was quite interested because she grows chickens on her own…as pets (her words not mine).
For our final day of the distribution, we were in for a surprise…not exactly a fun one either.  We distributed another 37 systems although more are needed.  We couldn't fit any more filters on the truck so will have to go back and I am not looking forward to it.  We thought the first tractor ride was rough.  Tht was a piece of cake compared to this one.  The ruts in the pathways were massive, plus lots or rocks and I counted 22 rivers and streams that we crossed.  It was 1 hr 20 minutes each way by tractor.  I thought we would never get there!  I felt quite bad for our guests but they never complained once and felt that the experience was amazing.  Here was our reception when we finally arrived.
Here are a couple of images of the village and school.  They are desperate to get a reliable source of water.  With the dry season upon us, their current source is expected to be dry within the next couple of weeks…and in Canada, we waste more than we use, taking it for granted.
We made it back to Luang Prabang that evening and still, not a complaint…Maybe people in BC are just too polite…LOL  I had a tough time sitting down for two days, had bumps, bruises, cuts and welts from the tractor…and I am going to have to do this again!
Diana (at the back on the right) was the one I was most concerned about because I wasn't sure how the tough ride would affect her, but she presented a poem that she wrote, bringing tears to our eyes.  We made Mike read it because he is a tough guy right?  This says it all.
From the bank of the Mekong 2016
Yeah, though we have walked through this land of red dust
Stained by the blood of innocents,
We have feared no evil.
For these are gentle people, the gentlest of people.
And softly, softly, they steal your heart away.
Generations past, in this war torn country some did
survive, deep in the caves that sheltered them.
Tragically,even today,just a farmers hoe striking the
ground, or a child's footfall and again the explosions of the bombs
And the madness begins again.
We came to Laos Country to bring fresh clean water for health,
And perhaps in a way a small amount of wealth.
But the gift we found was for ourself to enjoy,
The mountains high, the valleys low and the
moody rivers running free,
The poinsettia, the Palm and the rubber tree.
And the monks, they came in a procession of saffron
robes, with much dignity and ease,
Our very hearts to please.
Among our small cadre we have some as well,
As many a novice does live to tell.
Our time here is now sadly coming to a close and we are going away.
Will we come again? You may very well ask.
The answer of course is, I don't believe you could keep us away.
Diana Cabott, 2016