Projects Completed and Lots of Visitors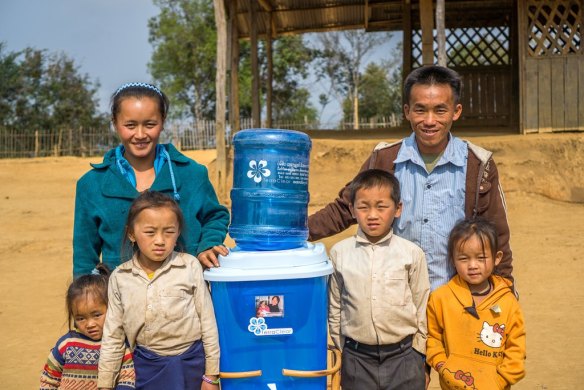 With a gazillion pictures to go through and 6 weeks left to finish all or our projects this year, it has been a whirlwind of activity as of late.  At the same time we are reviewing requests and proposals for next year.
Since our last blog entry, we managed to finish the school and toilets in Katang Xieng, located way up in the highlands above Nong Khiaw, and the water project will finally be completed today so I am told.  We have also taught hygiene courses and distributed water filters for another 415 families in 5 villages.  Woohoo!  Our last project is just starting and it is a biggy.  We had to delay it in hopes of raising more funds to cover the increased costs associated with our poor Canadian Dollar exchange rate.  That alone cost us an extra $30,000+.  On top of that we had overages on our budget due to issues way beyond our control.  Still, it is hard to believe but we did it!  Part of the additional funds received was due to the passing of a very dear friend of ours and so many.  In the spirit of her life of giving and never-ending generosity, the family asked in lieu of flowers that donations be sent to Adopt A Village in Laos. The total to date is well over $5,000.  Her memory and spirit will live on forever.  The villagers are strong in their spiritual beliefs and some actually lined up so that when we distributed water filters, Fay Hope's picture would be on the filter that they got.  Her husband Kevin will arrive tomorrow as originally planned before Christmas, but alone.
We had an amazing entourage of visitors from Canada to see and experience the villages receiving our support, and in keeping with the waer filter theme, here are some highlights.
The pictures above and below were taken at the conclusion of our school and toilet project.  We were always in a bit of rush to try to complete everything in a day and hightail it back off the mountain to the comfort of our guest houses.  Thanks to Afrisoccer for the uniforms, Mike and Kathy Storrie for the soccer balls.  Note in the picture above, the old school in the background to the right.  This was actually a new temporary school because the old dilapidated school was destroyed in last seasons monsoons.
On behalf of the villagers of Katang Xieng, and Adopt A Village in Laos, we gratefully acknowledge and sincerely thank Ink For Charity from Italy, Global Change for Children from Canada, The Rotary Club of Bowmanville and Fay and Kevin Hope from Saskatchewan.  Our three year push to make this village more habitable is just about complete with solar power, water filtration, permanent water in the village a school and toilets.  Thank you to all who participated in this venture.
Within a day of the departure of our large group of guests, Barbara and Leslie from Toronto, who hold a charity bridge tournament for us each year, arrived safe and sound.
We also did a small fundraiser just over a week ago to try to boost our cashflow in lieu of the low Canadian Dollar.  It was a lot of work but I think everyone had fun.  We had a raffle and tons of food, enough for an army I think.
We returned to Katang Xieng after the departure of our wonderful friends.  We had forgotten to take up the water filters to the school for the opening.  Preet Pall from Global Change for Children was the wonderful donor.