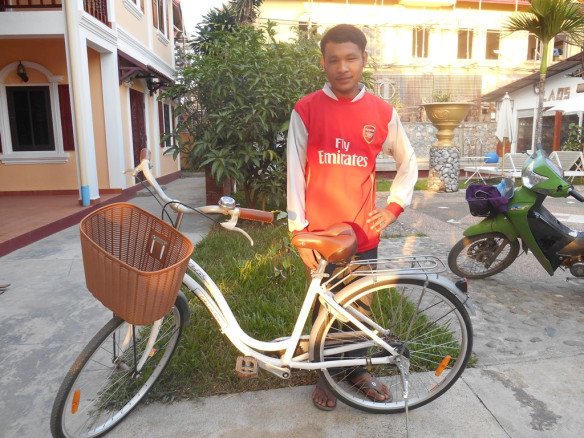 Fireworks, Loud Music and some pretty bad karaoke throughout the night made for a sleepless night, but that is Laos during celebrations whether it be Lao New Year, Christmas, a wedding, a funeral and so on.  It usually starts early afternoon and continues until about midnight..usually…Of course Lao New Year is a bigger, so a longer celebration.
Today I am enjoying a day off to catch up on my blogging and there is a lot to catch up on!  In fact I am trying to figure out where to start.
First, I often run across students in their final year who have to quit university because they just don't have enough funds to carry them through the apprenticeship program during their last year where they are sent to a distant village (often a different province) to practice teaching, a prerequisite to graduating.  4 1/2 years of learning and struggles…such a shame to see that they can't finish.  As such I have arranged to pay the 2 million kip needed for the program (and paid the students dormitory fees that were long overdue).  The second student had to give up his motorbike last year so he could pay his overdue fees but because of the location (way too far to walk), he couldn't keep his job. So we purchased a bicycle for him and will pay his overdue dormitory fees too.
I will provide a picture of the other student when I see him next.
We were also able to find sponsors for two more students this year.  Both are orphans and are cared for by the ex chief of Na Lea Village.
Next up has to do with the school, toilets and water project in Katang Xieng.  We have had a lot of issues with the village, a neighboring village, the new education office, stuck trucks, broken down trucks and one who got stuck going up a hill and instead backed up into the side of a hill causing a lot of damage to the truck.  Still, significant progress has been made.
The villagers couldn't stop thanking us for the progress.  They have never had support from any government and are ecstatic over our three year push at the hygiene (water) and education offices to make this truly happen.
I suppose our most successful progress report is to do with the distribution of another 244 water filters.  Starting with the village of Nam Mong, located just west of Pak Mong (Nambak District), the village actually held their Khmu New Years celebration back a week to coincide with our arrival.  Apparently we are the first foreigners to share a New Years with them!
The next morning we were at the second distribution point, Pak Jeem.
There were other highlites too during our visits to these villages. In Nam Mong we gave uniforms to a junior sports team, with thanks from Afrisoccer in Whitby, Ontario who retrieves used, donated uniforms after the sports season to give to teams around the world.
Gee I love my job!  Volunteer as it is, I have no regrets whatsoever and am looking forward to a brand new year.  Happy New Years everyone…and follow your dream.