Our season in Rural Laos Drawing to a Close
Where has all the time gone? I can't believe I have just a few days left before returning to Canada. What is worse, is that it is freezing up there. Here in Laos, winter has left and it is HOT! Nevertheless, our projects continue and will continue until they are done.
While nothing ever seems to go as planned here, we have made a lot of progress. We are currently working on another large water project for Ban Na Lea but it will be another month before it is completed. Most of the materials have been delivered and I have a very competent coordinator that will see things through to the end. 3.5 km's of trenching have been dug and the pipe is now in – we are just waiting for the engineer to arrive to construct the dam and the huge water tank for the village.

Our next stop was to go to PhonSavanh to deliver the sign and celebrate the completion of the huge water project there. The official hand-off was to hand a pipe-wrench to the village chief!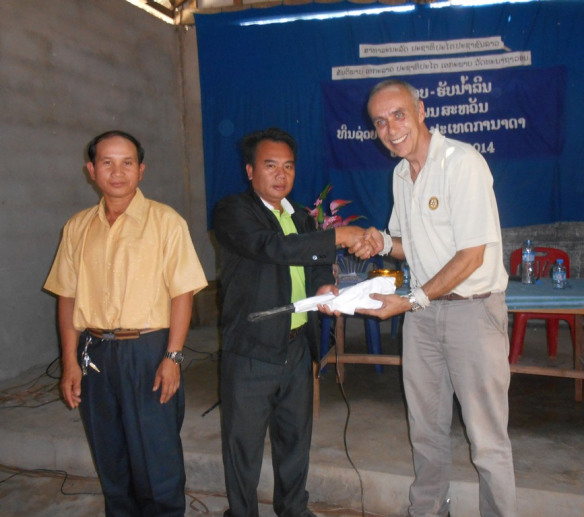 During the celebration I had brought visitors to our projects form Saskatchewan, Alberta and from New York City. They have all be strong supporters over the last couple of years.

The celebrations are always expensive for me because I generally do not claim it as an expense against our projects costs but the villagers really look forward to spending time with us and offering their personal thanks through the Baci offering and of course the party that follows. All the women want to dance with the falang (foreigners). I won't bore you with yet another baci picture but to give you some perspective, I managed to take a shot (and a rather poor one due to the bright light coming through the doorway, because I was seated at the front) of the audience. This consisted of only the team leads, their spouses and others who were an integral part of the project. I should mention that the villagers also donated about $7000 for this project.
We delivered the sign and of course, another photo op, presented itself to us. Thanks to al of you for your support.
I mentioned this in our last post but it is worth repeating I think. The villagers have been troubled with the lack of water for so many years now and it is such a delight to hear the comments from them. Most homes looked temporary and I found out that it was because many families were wanting to move for lack of water. They have told me that with this gift, they can now build toilets and better houses and they continue to thank me from their hearts.
We headed up for a couple more village visits, but as we returned through this village, they already had built a wonderful structure to hold the sign. They wanted me to be able to see it before I headed home. Wow!
While we were on the area, we dropped by a secondary school. The school was huge – I didn't count the classrooms but they surrounded the football field and at the back, they were two buildings deep. They had a library but it was very poorly equipped. Kevin was kind enough to donate teachers training kits of books to assist in training the classes. He even dropped into an English class that was in progress and being trained by a student teacher – on a two month assignment from the college here in Luang Prabang.

Transportation is always a challenge when going to Pha Yong Village. The roads are impassable during the rainy season and often covered by previous mudslides during the dry season. Still, we managed to find someone to take us – I just didn't want another trek if I could avoid it. Here are some updates of the toilet project there, expected to completed in another 3 weeks or so.
We had to stay one extra night in Nong Khiaw to meet the governor and his wife. We had tried during three previous visits but they were always out-of-town. This was no different but they had hoped to see us to before I headed back. This is the end of the governors last term, ending in May. He has served for 8 years now. I wanted to go over some of the projects, get updates on various things like the dams and perhaps share a meal with him and his wonderful wife who is the head of education in that district. This picked us up right from their return from Luang Prabang and took us to their farm. I enjoyed the entire day with them, eating fresh grilled fish that had just been caught from the fish ponds and having drinks together. A LOT of eating and drinking on my part throughout the day and evening. What a way to end my visit.