Lots more visitors, Completed Projects..and a New Start for So Many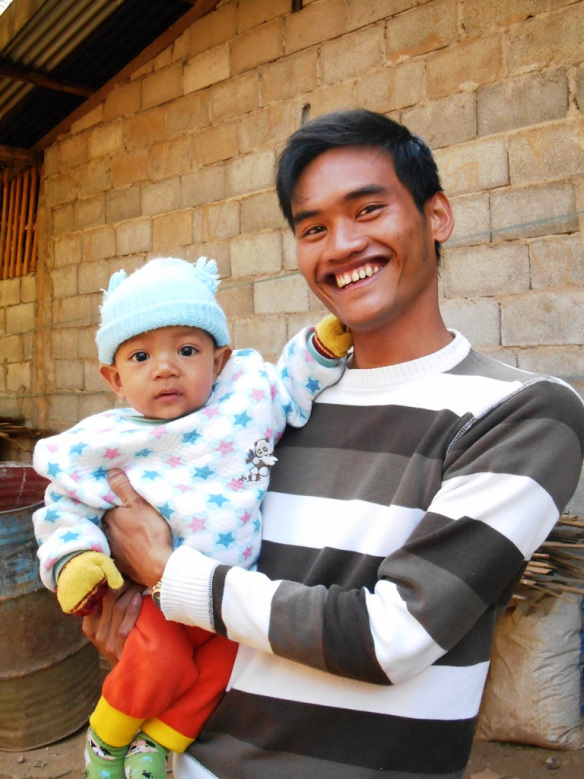 No sooner had our wonderful visitors from the Rotary Club of Toronto Twilight left, our wonderful friends form our hometown arrived.  Renee and Peter McLachlin, owners of Paperworks in Port Hope and Ready Print in Cobourg, were our next guests of honour.  They wanted to get involved in the projects so that is exactly what they did.  We took them up to Nong Khiaw with a couple of stops including one to see Siphan's son.  The little guy has huge eyes, just like his dad!
Rather than staying in Nong Khiaw for the night, we headed upriver to Muang Ngoi to spend the next few nights.  While there, we visited the school grounds where the entire district sent teams from many schools to compete in volleyball, patong, Lao folk dancing, and others.  Unfortunately, on Renee and Peter's first day in the villages, Renee sprained her ankle while chasing a runaway volleyball!  To say she was p'd off at herself would be an understatement, BUT the team we sponsored, Pak Jeem, won!
The following day was our first day in Hat Kham to complete the painting of the school.  Of course, due to Renee's minor injury from the night before, she become supervisor…kidding of course.  We had also met a group of volunteers from Israel who were more than eager to assist us and help us finish the school in record time.  Of course, many of them had a lot of paint on their faces, hands and feet, but the job got done!
This took us about 1 1/2 days.  Within an hour of the school completion, the desks and signs arrived.  It is such a wonderful feeling when things actually go as planned!