January 2014 Updates Continued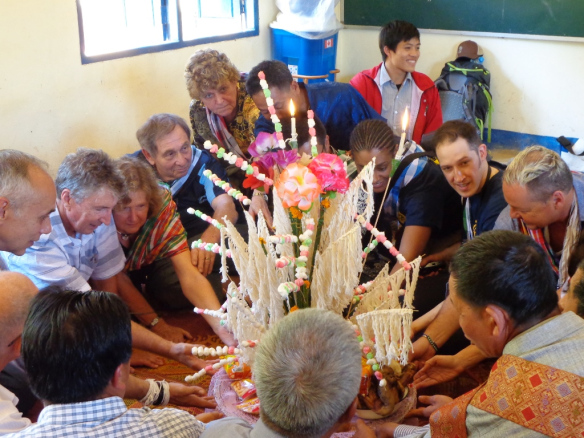 During our many village trips throughout January and early February, we were pleased to run across the child in Hat Kham who I had taken to the hospital.  As mentioned two postings back, the poor little kid had a sizeable infection under his ear and it was getting worse.  He is doing well and back to normal now as you can see below.
We also trekked to the Ban Na Lea Water Source for a second time.  It wasn't exactly an easy climb and I had to do it twice  The first time I went, the villagers felt they didn't need an engineer but after studying their plan and discussing options with them I realized that they really didn't know how to build a dam and weren't planning to build one anyway.  Despite their expectations of me making a decision, I am no engineer so my decision was to hire an engineer.  We returned a couple of weeks later with a hired engineer, laid out new plans and are just in the contract preparation stage in hopes of getting started in the next couple of weeks.  We also trekked to the PhonSavanh Water Source to check on the progress which was coming along fine.  I have heard that the dam is finished so it looks like another trek coming up.
We have had a lot of amazing visitors.  Massimo and Serena from Italy have been assisting in the build of Hat Kham School addition.  Each year they do an annual fundraiser under their charity 'Ink For Charity Projects' (You can find them on Facebook)
Charlotte and Marcus from France, are just about finished a playground at Hat Kham as well and Ian from New Zealand goes anywhere we need him the most.  We also had a delightful visit from Patti Lee and her husband Marty.  Patti, along with Barbara Seagram and her husband teach bridge and hold bridge tournaments throughout the year to raise money for water filters and schools for Laos and Cambodia.  I think last year they raised more than 100 water filters plus several school sponsorships.  Last but certainly not least, Laetitia and Nicholas from the Toronto Twilight Rotary Club to celebrate the official opening of the school in Na Lea, completely sponsored by their club.  Here are a few highlites from the official opening.
So far, I have attended 6 Baci ceremonies, some more spiritual than others.  I did miss one though.  I took two of our guests to a guest house for the night while several guests decided to stay in the village overnight.  Apparently there was another Baci for them the next morning!
We headed up to Hat Kham for another inspection to make sure things were on track.  We have been told that they will have the school ready for painting in just 10 days.  Perfect timing for our guests from Port Hope/Cobourg to arrive, Renee and Peter McLaughlin.  Just in time to help us paint.  One wonderful thing that happened was that once the foreigners were seen helping to build the school addition, all the villagers came out to help too.