January 2014 Project Updates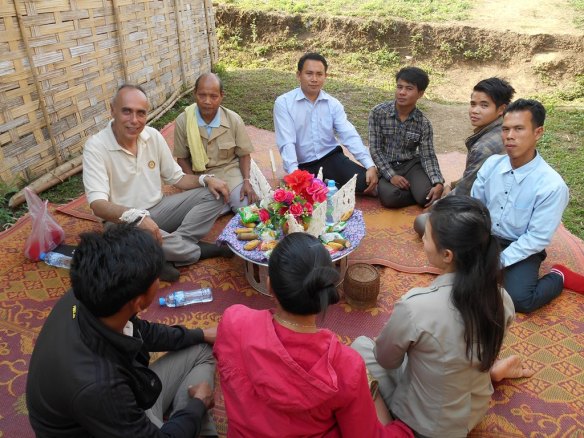 It has been a whirlwind of activity since my last post.  It seems there is never enough time to update this blog.  We have had a lot of wonderful visitors and sponsors throughout the month and into February.  We have been through almost freezing weather (2 degrees) and back into the traditionally warm temperatures we expected.  I have also been to a wedding, 6 baci ceremonies (in fact it is hard to type with so many baci strings wrapped around my wrists), and am working on the completion of three major projects.  Having said that I cancelled one school addition (corrupt school director and I didn't want to get caught) but am putting the funds towards enlarging a water project in Ban Na Lea which should start in the next week or so, if luck prevails.
At the beginning of January and after delays caused by a broken down van and yet another one because the boat driver wasn't there when we finally arrived, we finally made it to Pak Jeem, hours after we were supposed to arrive.  Our sponsored teacher Khamdy, all the teachers, the secondary school director and the village chief were all there to greet me.  The purpose of this visit was to deliver the uniforms to all of the sport players for the school.  I originally received uniforms from Afrisoccer but realized they were too small for the players and ended up have to sponsor the team myself.  I found out that these players (male team and a female team) play a variety of sports.  They are judged on 5 sports – Football (soccer), Rattan Ball, Volleyball, Boon (similar to bocci ball) and Folk Dance.  Due to translation issues, I can't figure out who won what although I was able to determine that these Pak Jeem teams won 5 top awards for the entire District – I just can't figure out which sports they won out of a total of ten.
Immediately following the distribution of team uniforms the chief, teachers and students held a baci for us, in prayer for what they hope to be another amazing season.
We were supposed to visit three sites that day but due to the delays, it was already getting dark when we returned to the main road.  We tried to book a guest house in PhonSavanh at the last minute and quite frankly I should have stayed at Siphan's mom's house – it would have been more comfortable than the guest house we found.  The one I usually stay out was fully booked for the Khmu New Year.  What was worse was that it was only 2 degrees, a draft coming through the shutter and only a thin bed covering so I shivered myself to sleep.
Anyway, the next morning we inspected the work done in PhonSavanh for the new water source and trekked to the source to see where the dam would be built.
It was a bit of a trek to be sure, especially going uphill through the river in parts, muddy slopes, under fallen tree trunks and few footholds.
We headed up to Hat Kham to deliver a few more water filter systems, provide hygiene training to new families and to inspect the construction of the school addition.
This is the progress after just three days.  As soon as the villagers saw that foreigners were pitching in, they all wanted to help.  From left to right (above), Serena and Massimo (from Italy), Souk (Chief Builder), Ian (Australia), Charlotte and Marcus (from France.