New Village chosen for water source, filtration and school projects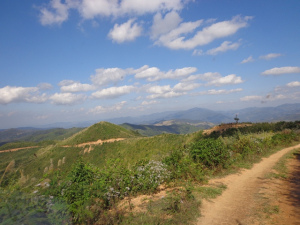 I am always behind the 8 ball these days – partly due to the poor internet service I have here, partly because I always seem to be busy (which is a good thing) and partly sheer procrastination….
Art Quickenton, a good friend of Mike and myself, just left a couple of days ago after spending three weeks with us.  A good part of his mission was to select a location to build a new school, with the help of students and faculty at Appalachian University in Boone, North Carolina. There were three good options that were selected to review however as it turned out one of them was not so good afterall.  The trek to the village would have been 5 hours each way (not including the minivan and boat trip) so I cancelled the visit there – the costs would have been just too high to ship materials there and it is very tough to raise money for schools back at home for schools.  So we looked at Ban Phone Kham and Ban Katang Xieng Village.
The choice was clear from the moment we saw the village.  This village has no water and the villagers need to trek to get it with buckets or bottles in hand.  There was no electricity, no toilets of course and the school basically (very basic) consisted of two shacks that do not look like they are going to make it past the next monsoon season.  All of the huts were approximately the same size (my best guess is 10′ x 12′) and all made of bamboo including the roofs – not a single tile roof in the village which was a first for us to see.  Finally, this was the village that had the highest number of kids running around without clothes.  I am making the assumption that water to wash clothes is difficult to get.  Take a look.
The village was 100% Khmu and we couldn't help but feel for their struggles.  They had visited the officials in Nong Khiaw a number of times to try to get water to their village but so far there has just been one delay after another.  I am hoping that our offer to help will help push the hygiene office into engineering a solution for us.  Meanwhile, Art will be doing a number of fundraisers in Boone to raise funds to build a real school.  We certainly wish Art the best of luck in his endeavors…Thank You Art for your visit and for caring.