2012/2013 New Season in Laos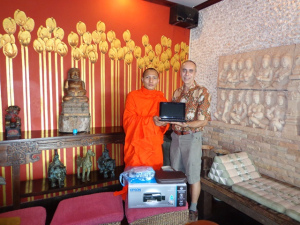 Hi Folks,
I have been in Laos for 10 days now and it has been a bit of a struggle to try do as much as I can before our first visitors arrive.  This year it looks like 19 people will be visiting us to see Laos and join into some of the project activities we are involved in.  Mike arrives tomorrow and will be followed by Art Quickenton from Appalachian University in North Carolina who will be here to hopefully pick a school site for one of the rural villages.
In my first few days we managed to get delivery of 204 water filter systems and managed to get labels on all the ones we need to distribute before Christmas.  One day after delivery  though, we were told that we could only have the warehouse space until January 15th meaning we will have to move up the distribution dates for the rest.  Fortunately Linda Goldie from the Rotary Club of Northumberland Sunrise and Hugh Parker from the Port Hope Rotary will be here to assist with that.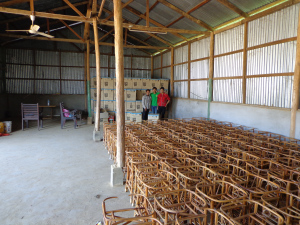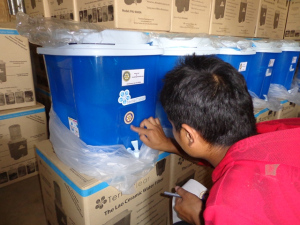 Next up I headed to Vientiane to do some purchases, meet with another NGO out of Winnipeg and to distribute the first notebook to one of our sponsored students.  We also purchased a printer, sandals and then found out that he was going to be short of tuition for his second semester.  There went another 800,000 KIP.  His name is Monk Bounheuang Onkhamla.  His toughest subjects at the moment are Math and Physics, and he hopes to study Computer Technology, more from the software side I think.
Once we returned to Luang Prabang we also distributed the other notebooks but I forgot to take pictures.  I will endeavour to do so of course.  I needed to prepare for our first distribution so headed up to the small rural village of Ban Na Lea.  This was a real pain to get to and I haven't quite figured out how we are going to deliver so many.  The drive isn't so bad but we get left on a riverbank, have to take a small boat across the river then hike through one village, then along muddy pathways to Ban Na Lea.  They were pretty thrilled that we plan to build our next school there and to receive the next shipment of water filters.
Since visiting this school I have attended a wedding, visited the hospital south of Luang Prabang to discuss what the step in phase 2, and Nong Boakham Secondary school to get their Phase 2 started which will include 2 more classrooms and separate boys and girls latrines….with running water we hope although there is currently a problem with the village water supply.