Fundraising Season Quickly Coming to a Close for 2012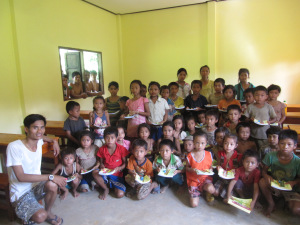 Wow, where has all the time gone?  June was my last entry!  To be frank, almost all of my efforts were towards fundraising, putting together a dynamic Board of Directors, overseeing the last couple of projects overseas, determining what projects we should try to manage this year.  We did manage to get an update of Hat Kham School that had experienced some major delays.  We were finally able to get the school furniture up there just a few weeks ago after 2 failed attempts caused by the monsoons and the dangerously high river.  Here are a few pictures;
We have been really busy since then.  It would have been great to get pictures but it is difficult when one is at the front of the room and under the spotlight!  We presented to the Rotary Clubs of Bracebridge, Gravenhurst, Whitby-Sunrise, Toronto Twilight, Northumberland Sunrise, Port Hope, Scarborough, Bowmanville, Oshawa plus Ganaraska Probus Club, and the Toronto Bridge Club.  I wonder who I left out!
Linda Goldie was kind enough to hold a small fundraiser at her home; Heather and Margaret from Penryn Village held a coffee morning at their house, Bryan Marjoram and Leanne Clarke held individual baseball tournaments and Jennifer's Jazz It Up Studios held a series of fundraisers.  Wow, what a great team!
We have a target this year of $91,000 (please take a look under our current projects tab for details) and still have a way to go to reach this target.  Depending on the the results of pending proposals, it looks like we are currently short about $15,000 to date, although we are working on it.  I am most concerned about a $15,000 primary school that desperately needs to be built but I may have to postpone it and hope that it survives one more monsoon season.
If any of you has suggestions or can assist, please let me know.  There are just 6 weeks to go.