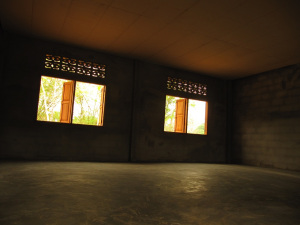 While our Lao friends are celebrating the second day of Lao New Year, I realize the importance of being able to enjoy life a little.  I am spending my last couple of weeks in Costa Rica before heading back to Canada to begin the next fundraising season.  CR is a great resting stop and has similar beauty to Laos – one of the main differences though is that there is wildlife everywhere.
In Laos they tend to find a reason to celebrate anything and everything and it is often 1 – 2 day trips each way just to see their families. Financially it isn't easy to manage but the family bond is very strong.  Over the last few weeks I have had some pretty interesting conversations with foreigners who recently travelled there, Lao friends living there and abroad, and even a Monk, all with completely different perspectives on the Lao Culture.
One interesting question that I grapple with every day is in reference to giving. 'How much is too much', before one begins to negatively affect the culture.  It is a difficult balance to be sure.  While I want to give hope and the basic necessities like Education, Clean Water and Toilets, I also want to give the people pride and ownership in their own accomplishments by working with us to build and maintain the things they need.  It doesn't come without a price tag either.  The uneducated see it as an opportunity to try to 'get' money – some honestly, some not so honestly and jealousy is everywhere, as with most third world nations (and first world for that matter).  Case-in-Point: I have been constructing communal toilets in a village, a few more every year.  They are necessary and the recipients are appreciative and respectful.  But the chiefs now want something for themselves (in addition to the toilets) and have tried to force the issue to a family that knows me more that the others through various dishonest attempts with them.  The family simply had enough and moved out of the village after spending many years there – the family understands charity and the family members are reasonably educated.  So I ask myself, how much have I affected the culture?  My presence has certainly affected the family in negative ways – perhaps not culturally though.
To be fair, the country is moving forward anyway.  Their culture is slowly changing with the  technological advances we have seen in every other country, like cell phones, internet and with the influx of foreigners to build new roads, dams, hospitals, universities and airports, and tourists from just about every country in the world.  So it is changing, albeit slower than  its neighbouring countries.  I feel that we need to continue the push for better education, once the most basic survival requirements are met, like water and hygiene.
Even the government is trying to change the culture somewhat – what the uneducated do not understand, they try to explain it through superstition and spirit.  I have heard many stories about this.  It must be extremely difficult to educate the villagers who believe so strongly.
On another note, I have an update on Nong Boakham.  Many of you will remember that this new village of 300 families needed water, schools (both primary and secondary), along with toilets and other infrastructure components.  As they celebrated their first anniversary as a new village last year, Rotarian and Lao friends assisted in providing blankets and mosquito nets to the entire village.  Since then water has been provided by another sponsor, a 5 room primary school has been built by yet another NGO (currently in use) and we accepted the task of raising money to build the secondary school and a football field.  I knew this wouldn't be easy since we had so many other projects on the go, but they were losing their most valuable assets to the big city – their children.  So we raised enough to build the first two rooms because we were told there were 2 teachers.  Of course once we started the project I found out there were indeed 3!!!  The first two rooms are almost finished but we need to try to build a 3rd room by the time classes start in August.  I have managed to raise $2000 so far but have a long way to go to reach $10,000.  If you or anyone you know may be able to help raise this money, please contact me at your earliest convenience.
Next season I hope to finish the school with more rooms to a total of 5 rooms plus office, plus small library.  In addition we will need to build washrooms.  I also want to clear land for a football (soccer) field.   Here are a couple of pictures of the first two rooms nearing completion (about 95%).
Happy New Year to all of our Lao friends.  We wish you all a healthy and prosperous year.