Nong Boakham and Meung Luang (District) Hospital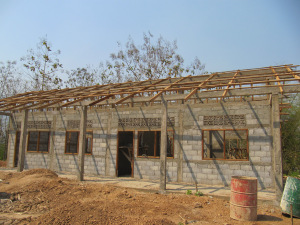 During my last visit to the villages south of Luang Prabang to get updates on the projects there, I was surprised with the progress of Nong Boakham School.  It had been only two weeks since I had been there last and they still had some ground levelling to do before the construction could start!
Meung Luang Hospital was a treat to walk into.  When it comes to water you couldn't imagine happier people – Phosavanh was the same. It is so fulfilling to see this too.  Note the birthing room.  Those of you will remember our thoughts when we first saw it – it was disgusting.  Now look at it.