Projects Finally Underway!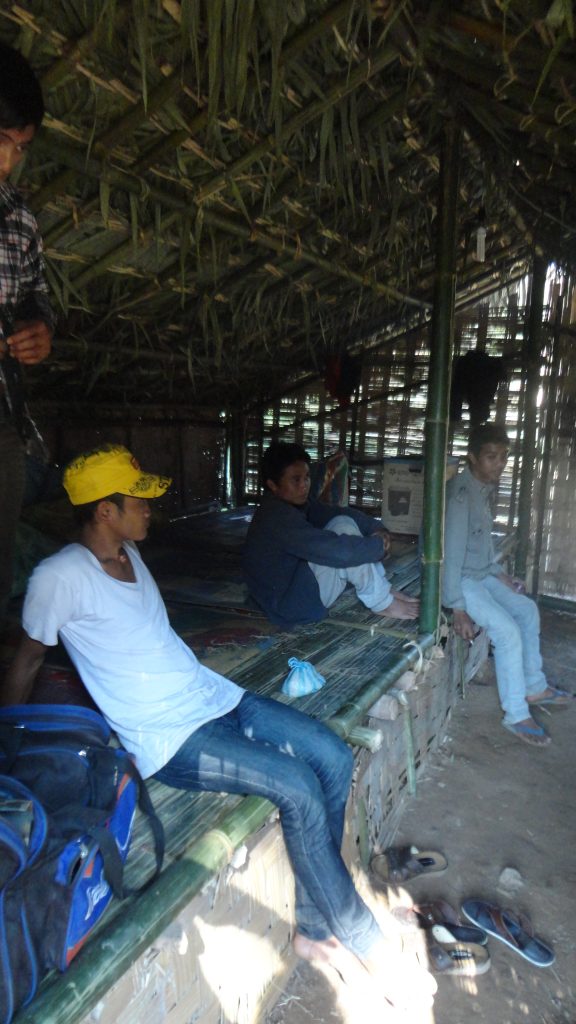 Lights….Camera…..oh wait!  Ok, Lights……Camera…wait a second.  OK, Lights…Camera…Action!  After several false starts, we finally managed to get all of the 7 projects started.
I have to admit I had to do some manipulating. In fact I had to announce that I would be cancelling some of the projects if contracts weren't signed within the next week.  Suddenly everyone came to life – engineers fell into place, the villagers became accessible to help and there was actually movement.  I had been here for 2 1/2 months with practically nothing to show for my efforts here except for water filter distribution and hygiene training. Now I can say that the well for the hospital is just about done (although there is a lot more to the project than that), Nong Boakham school is well underway for its first two classrooms, Had Chanh School Toilets are moving along quickly, and Pha Yong toilets start today – yeaaahhhhh.
In Hat Kham we were surprised to see all these bags of sand and gravel. – Actually it wasn't the fact that we saw them, it was WHERE we saw them.  Each village family was required to collect a portion and supply it for the school – they were inside peoples houses, outside, hidden in other places until it was needed.  Now how cool is that?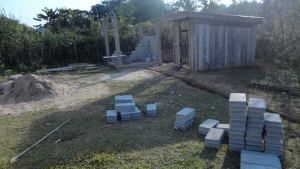 The above picture is of the toilets being built for Had Chanh School.  It is already over budget!  Note also the trench to run the water from the village water tank.
I almost forgot – Phon Savanh water source project is underway too, although the actual building hasn't started yet.  I trekked with a couple of the officials plus the engineer to source where we would be getting water and have to admit that it was one of the most difficult treks I have done.  We were climbing along the side of a mountain that was full of bramble. The mountainside was very steep and while the path was cleared with a machete as we went, the villagers are a lot shorter than me, not to mention much younger and more agile.  I found myself squatting under the bramble, trying to climb up hill – I am glad I borrowed a hat – the bramble did take it off for me a couple of times.  Still it was pretty exhilarating to say I did it although I was stiff for a couple of days (The villagers were even surprised that I made it).  I will upload pictures on my next post.