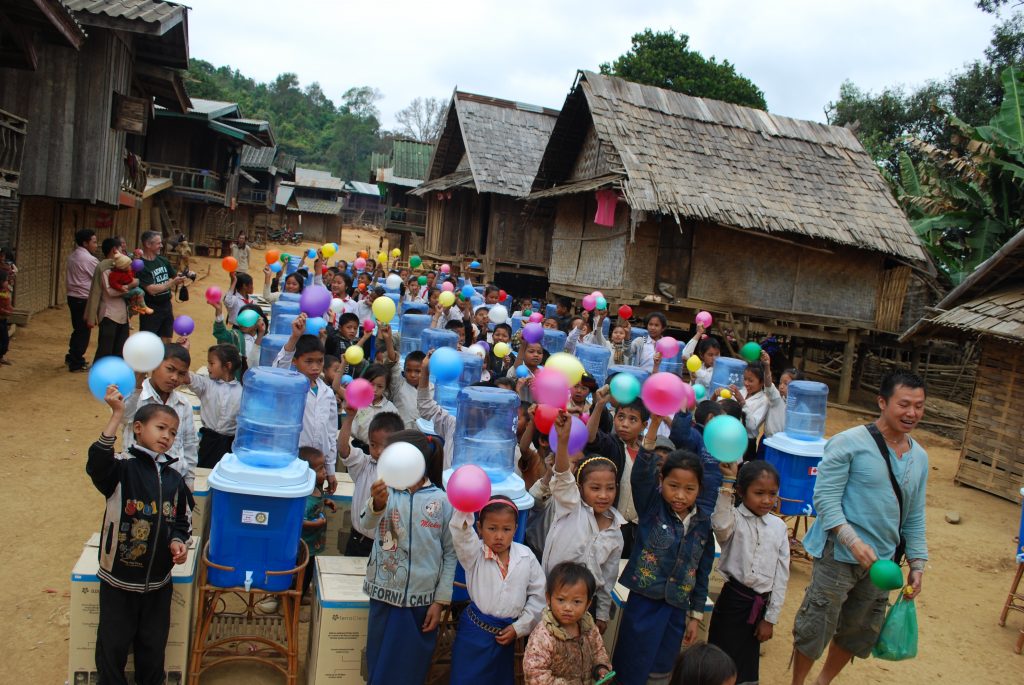 As we close out another year I look back at our accomplishments and also things that didn't go quite as planned…perhaps review the things that could have been done just a little better.  I thought I would start with some of the highlights of the accomplishments through pictures – just a few, to remind me of why we are here. Many of you have seen some of these before.
None of these projects would have been possible without the support of so many Rotary Clubs including Whitby Sunrise, Port Hope, and Oshawa.  This year we are also delighted to gain support from the Rotary Clubs of Gravenhurst, Bracebridge, Toronto and Scarborough.  THANK YOU!  Our thanks certainly don't stop there either.  Jai Lao Foundation has agreed to sponsor Hat Kham School, Jennifer's Jazz It Up Studio has been a strong supporter and there are hundreds of sponsors who have made such a positive difference in so many lives.
One thing we are really delighted about – The hospital water project which gets underway today is fully sponsored by the Rotary Club of Oshawa.  It is not only the first Rotary project in Luang Prabang, but it is only the second Rotary project in all of Laos (the first one was in the Vientiane sponsored by the Rotary Club in Bangkok a few years ago).
I am personally thankful for the logistical, accounting and moral support of two great people – Cleve Pendock and Ron Coleman!  In addition to their daily support, together we managed to gain Charitable Status in a very short time, setting the scene for much greater things to come.
Summarizing the political and logistical landscape in Laos has not been an easy task and it is ongoing.  We have made strides with the local and district governments and have begun to expand this to Provincial and National Government but still have a way to go.  It isn't exactly a simple process – I have been known to put the cart before the horse so-to-speak, due to inexperience and lack of knowledge but am gradually getting to know the landscape and have made some good contacts resulting in fewer mistakes.
On the other side of the coin there are definitely things that I need to improve both here and in Canada.  While we run on a shoestring budget here, everything beyond the direct project costs still comes from my pocket including most of the overheads.  I have to find a way to change this somehow hopefully sooner than later.  I also will need to find more logistical, bookkeeping, planning, media and other support in Canada on a volunteer basis which is equally difficult.  In Laos, I still need to find a couple more people here that I can trust to continue some of the projects when I am not here.  We are ok for now but if something happens – sickness or other with the two people I do trust, it is going to be very tough.  That is a goal for next year to be sure.
Some of the other things I need to consider of course include more exposure across Canada, with the corporate world and beyond.  Hopefully charitable status will help me do that. To be able to speed up preparations for construction before I arrive and to complete 90% of the construction projects during the dry season is another goal of mine.  Transportation can be nearly impossible during the rainy season and there is a lot of sickness here during that time.  I hate to see people suffer and with roughly 7 months of relatively dry weather, so much more should be able to be accomplished.  We certainly have a way to go on that front.  These are just a couple of the obvious targets but there are more, perhaps on a lesser scale.
That just about wraps up the year for me.  I miss turkey with mashed potatoes and gravy, I miss Wendy's hamburgers and frosties but most of all I miss my dearest friends and family including my Rotary family.  It doesn't take long for me to realize though that it is all worth it.  The rural villagers deserve the things in life we take for granted.  Clean Water, Education and basic Sanitation.
Happy New Year to All of You and Thank You for being there for us.