2014/15 Season Draws to a Close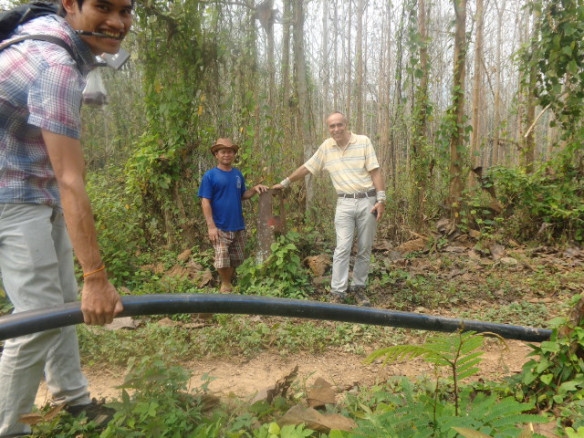 The last couple of weeks have been rather hectic at times, as we try to complete the rest of the projects, prepare our reporting and visit the villages who have made formal requests for next season.
First, our largest project of the season has made significant headway.  Primarily sponsored by a large number of Rotary Clubs and District Funding, the 7.6km pipe for our water project there has been run.  In addition, the villagers and engineers will be pouring the cement for the water tank tomorrow, then moving on to the construction of the dam in the following days.  The final step in the process will be to hook up to the existing tapheads in the village and repair where necessary.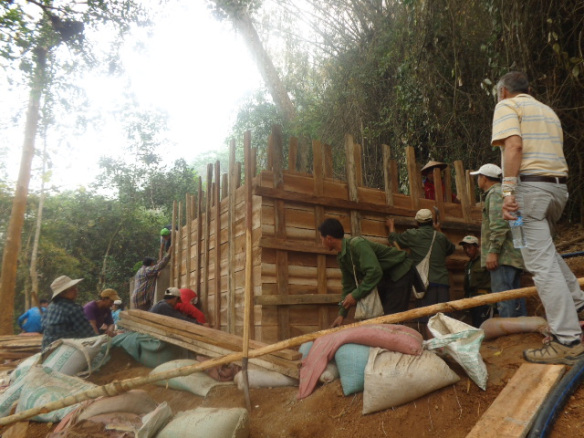 We had hoped that the project would be completed much earlier but there were issues again with the land they must use to run the pipe (since resolved) and now the Laos New Years is next week which means nobody will be working for at least a week or until the Beer Lao runs out.  As we were returning , we had to take a boat across the Ou River – 4 boatloads of Beer Lao were being ferried over…hmmm. I wonder if that is going to be enough.  I read an article that said Laos was the largest consumer of alcohol in Asia…I assume that is per capita since Laos's population of 6.5 Million is no match for China's 1.2Billion people.
We also managed to complete another project in Katang Xieng with the installation of our remaining solar panels.
We also visited Nong Boakham, where we had built a secondary school two years ago.  The request to visit came from the Luang Prabang District Governor and the District Hygiene Office.  4 villages were moved here and I was surprised by the improvements over the last couple of years.  Yet, they still use the bushes on the bank of the Mekong River as their toilets.  Diarrhea is also rampant in the village.  As such, they are asking us for toilets and water filters.  I hope they get their proposal together in time.  My deadlines are awfully tight if I want to try to do this next season.  They will need 254 toilets and about 260 water filters.  For the toilets, we will not be building them like the toilet banks we usually do.  Instead, we will supply an engineer to stay for a month, supply basic materials like cement, the porcelain squat toilet, pipe, 4 roof tiles each and other basics, if approved by our directors and subject to successful fundraising.
We are also interviewing students for next year.
We still have a little unfinished work here but basically my on-site work is done for the season.  I will post more pictures when the water project in Meung Xuen is finished.  Meanwhile a new season of fundraising begins!